So here are a few things I got for Christmas from my family:
1. Cashmere Bed Socks
THESE ARE AMAZING. so soft. It is like permanently walking in a warm cloud, truly lovely!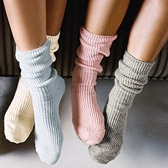 2. Dental Floss. That's a bit awkward.
3. Lady Gaga LP. This is gorgeous and a piece of art, unfortunately chucked out the record player two years ago…. Still it looks pretty stuck on the wall.
4. Chocolate Coins (conflicting with dental floss) my second favourite type of coins.
5. Community Boxset. If you have not seen this you really need to.
Ah midwinter festivals, aren't they the best!